TV Skyline Ü8 truck sports extensive Lawo spec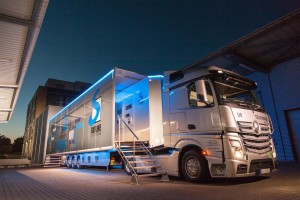 German mobile production company TV Skyline offered an insight into the future of mobile television production with the unveiling of its new Ü8 UHD OB truck in Mainz, Germany, on 1 September. As what is claimed to be the world's first OB van to be based on fully IP-implemented audio and video stageboxes, TV Skyline is set to be regarded as a milestone in modern OB production.
The new concept was made possible through the use of V__Link4 IP-based stageboxes and RAVENNA DALLIS routing from Lawo. The Rastatt/Germany-based company was not only involved with Ü8 as manufacturer, but also as developmental partner; TV Skyline and Lawo jointly developed the optimized network structure that underpins the mobile studio. Integrated into the IP network are four V__link4 stageboxes and a Lawo mc²56 mixing console. With its implementation of RAVENNA technology, the console has opened the door to the world of networked IP.
Laurent Schiltz, CTO of TV Skyline, comments: "From the very beginning, the flexibility and the technical possibilities of the V__link4 stagebox and IP solutions convinced us that a truck based on IP technology would bring us a new and promising (future-proof) chapter in television production. We now can react more flexibly and quickly than ever to on-site customer requirements. Beyond that, we can offer completely new production methods – such as the remote productions that are becoming increasingly popular – at the same time. And we can do it with the same equipment."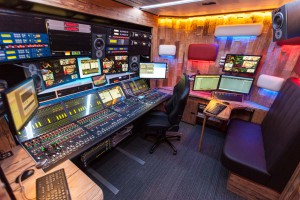 Also integrated into Ü8 are ten Lawo V__view1 units for converting IP-based MJPEG streams into HDMI signals with minimal latency. These compact devices provide a monitoring solution with an end-to-end delay of fewer than three frames, e.g. for commentary positions or production suites.
Accompanying the software, the V__view_app displays the pictures on any PC or Mac, allowing video distribution with 50% more efficiency.
"V__view1 is the perfect complement to installations with Lawo's video-to-IP interfaces. It transfers monitoring signals flexibly and efficiently to multiple technicians' positions in television production," says Schiltz. "As a result, we save enormously on cabling effort, and can respond more effectively and quickly to the wishes of our customers."
IP technology enables easy connection of stageboxes via Cat5 cable and standard switches, so that it is possible to send signals to various locations without having to run additional cables. In addition, this operating concept allows quick and cost-effective distribution of further video signals.